---
---
My Guitars and Stuff!
---
Make/Model: Taylor 416ce-LTD-R
Manufactured: El Cajon, California, USA
Year: Fall 2009
Strings: Elixir Polyweb 80/20 Bronze, .012, .016, .024, .032, .042, .053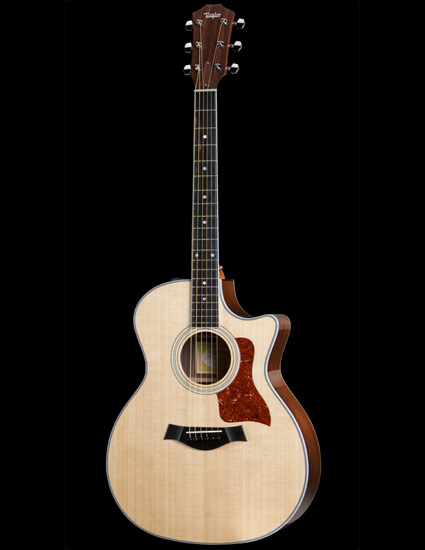 This is a beautiful guitar and a pleasure to play!
It is a limited edition instrument made of Rosewood and Sitka Spruce.
Here's the run-down from Taylor ...
"Indian rosewood and Sitka spruce are arguably the quintessential tonewood combination of the modern
era. Although rosewood is typically reserved for our higher-end models, our Fall LTD 400 Series brings a
rosewood guitar within the range of more budgets. This selection of rosewood sports rich chocolate-
and-caramel variegation, made even richer with a gloss finish. To broaden the appeal to every style of
player, four Taylor body styles are available — GA, GS, GC and Dreadnought — and each is highlighted with
crisp white binding. Additional appointments include pearl dot fretboard inlays and a 3-ring rosette. A
Venetian cutaway and the Taylor Expression System® pickup are also featured."
You can check out the full story here.
The strings are expensive but well worth it for their great tone and long life. Also, they tend not to rip
my fingertips up as much as ordinary strings (I bend the strings a lot playing solos). More information
can be found here.
1. Make sure the strings are new or near new when you try it out! This is especially important when
purchasing an Acoustic. It is impossible to get an idea of how good the guitar is when the strings are half
rusty or months old and brittle. If you are serious about the guitar, ask the guys in the shop to change the
strings before you try it out if they are crappy.
2. Look very closely at the body and inspect it for cracks/splits in the wood.
3. Never pay full price! Or get stuff thrown in if they don't want to budge. You need a lead, a strap, picks,
batteries ... anything.
Make/Model: Maton EM325C
Manufactured: Bayswater, Victoria, Australia
Year: 2005
Strings: Elixir Polyweb 80/20 Bronze, .012, .016, .024, .032, .042, .053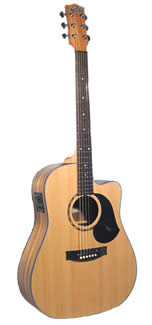 This Maton is not the top Model but it has a lovely rich full sound and great pickup and functional EQ. It has
been a real gem and I love it ... a great guitar for live use for sure! You can hear this one in my earlier
videos. All the technical information and specs are here.
Make/Model: Ernie Ball EVH (Eddie Van Halen Signature Series) Music Man
Manufactured: San Luis Obispo, California, USA
Year: 1993
Colour: Trans Black
Strings: .009, .011, .016, .024, .032, .042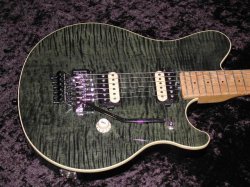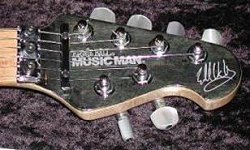 This is a very rare guitar with only about 600 built in this colour. It is worth more than twice what I paid for
it now ... though mine has seen a lot of gigs and is pretty beatup. But that's rock'n'roll! I love this guitar!
Fantastic dirty guitar tones and thick solo tone using the back pickup. But beautiful clean tones as well using
the out of phase pickup setting.
Interestingly, it only has one knob, a "Tone" knob. Anyone who plays with "clean/dirty" sounds will tell you
how hard it is to get it right. Too much overdrive and you can't hear the notes. With this knob, turn up the
overdrive then back the tone knob off until you can hear the notes. And it works! Nice one Ed!!
Make/Model: Digitech GNX3000 Guitar Workstation
Manufactured: Utah, USA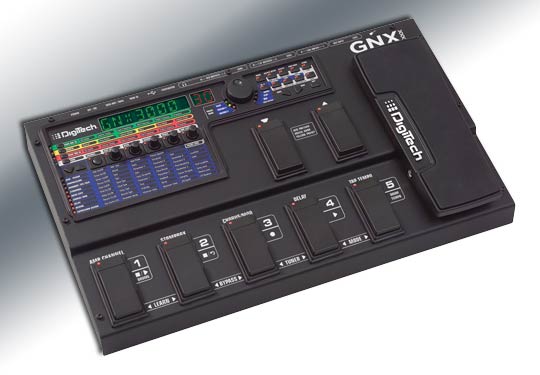 Amazingly flexible. I've hardly scratched the surface as far as finding out what is possible. More info ... here.
---
---
Copyright © 2008-2019 jamezheart Web Designs, South Australia